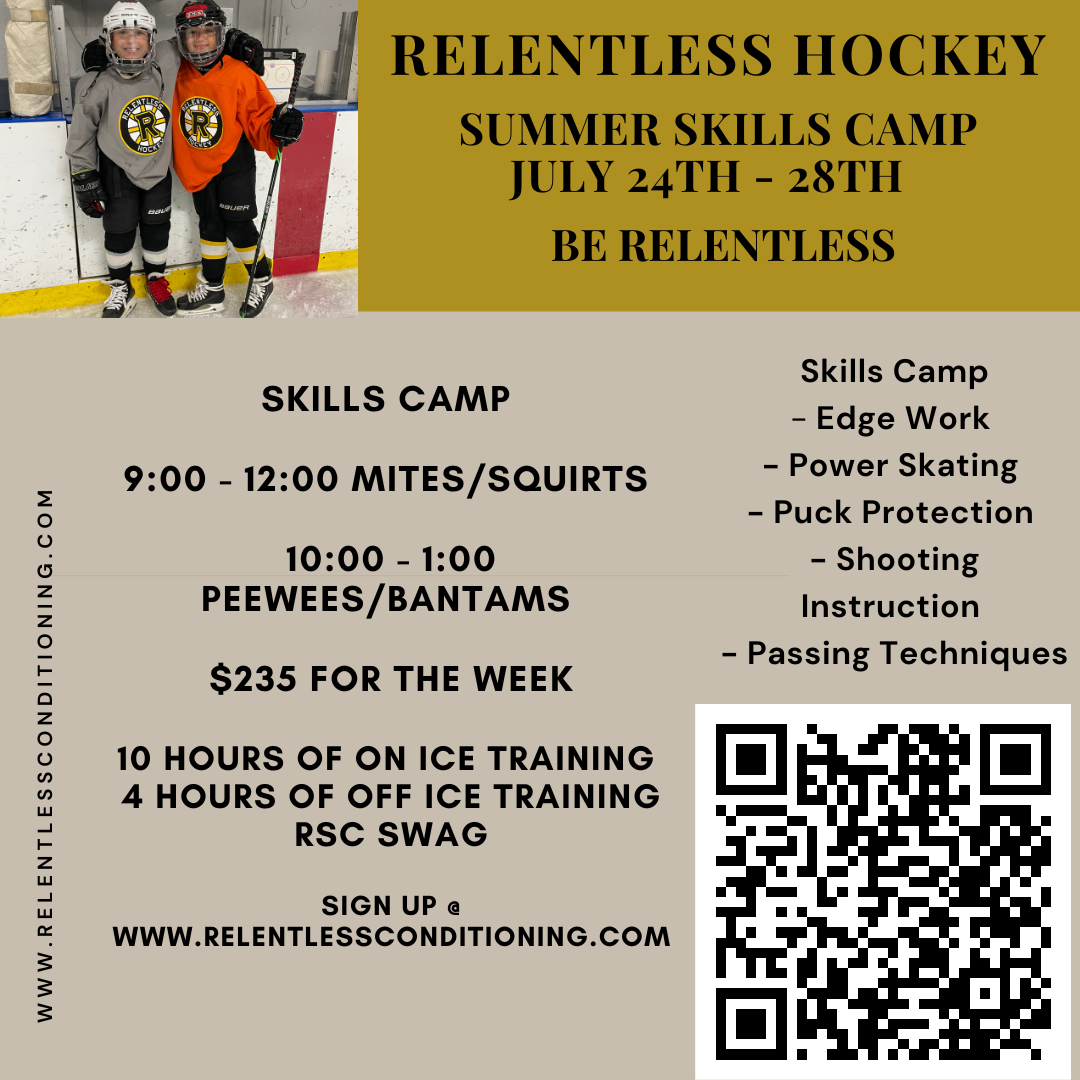 Summer is just around the corner and we can not wait to get started!
Here are our Summer On Ice Training Programs
Total Hockey Training – June 26th – August 31st
On Ice and Off Ice Training Program  for athletes serious about their development.
Ice – Tuesday and Thursday Mornings 7:00 am July 11th, August 10th

Off ice – Starts June 26th with assessments and all athletes will receive an unlimited gym membership June 26th – August 31st

 We will be on the ice 7:00 am and Tuesday/Thursdays and have scheduled gym sessions 4 days a week and a Speed Agility Session off site once a week.

All athletes receive RSC/RH Swag

New this year,  we will be offering classroom seminars on Nutrition, Mindset and Recovery

All athletes will be using the app Train Heroic so parents can monitor their daily training

We will be running weekly assessments using speed gates, jump mats and rates of force parents can monitor the progress each day in their athletes app

This program will be hockey specific and different than the program offered in during regular class times

Over the course of the summer this is 60 hours of training if you attend 3 days a week – $9/hour for high level training

Cost – Full Time (All12 Ice Sessions) – $545 Part Time (6 Ice Sessions) – $275
Summer Skills Camp – July 24th – 28th for Mites – Peewees
Mites/Squirts 9:00 – 12:00 PeeWees – 10:00 – 1:00
This is not a babysitting camp. All skaters will be challenged in a fun atmosphere.

Daily Off Ice workouts with Strength and Conditioning Coaches

Daily Skill Focus and Format – Skills Isolation – Skill Practice – Skill Application

Daily Power Skating

Nutrition Seminar

Friday Game and Skills Competition

All Athletes Receive a Jersey and RSC/RH Swag

Cost – $235 per player
Weekly power skating sessions Tuesdays July 11th – August 15th at 4:00
Sessions will focus on linear skating, short explosive skating and edgework.

We will be applying the same speed and power principals we use in the gym to make our athletes faster and more explosive on the ice

Each session will build on the next. It's not mandatory but Skaters are highly encouraged to attend all sessions in order to get the most out of these

Each Skater will receive a Jersey

Cost – $25 per player
You can register for anything on our website. Don't hesitate to reach out with any questions.